During our visit to the Hong Kong Global Sources exhibition fair, we were excited to hear about the new K style electric folding scooter from Coswheel. It's innovative folding feature which is fast and easy impressed visitors from around the world.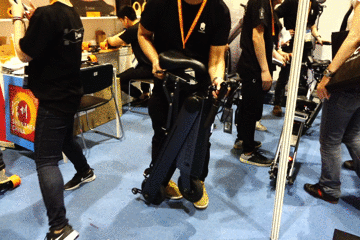 On Oct 2017, it gained more than 10,000,000 RMB on crowd funding.
Now COSWHEEL have announced the all new A-ONE-X.
From looking at the specs, the main differences between the A-ONE and A-ONE-X is:
Improved the wheel size from 8" to 10"
Heavier, now weighs 20KG; an increase of 4KG
Features front and rear brakes, the A-ONE only had rear brakes
Here is quick look video of A-ONE-X
The box
Before opening the box, we tried our own version of the Drop Test
Upon opening the box, you can see all the accessories that come with the A-ONE-X

The A-One-X survived the drop test, nothing was broken! Hurray!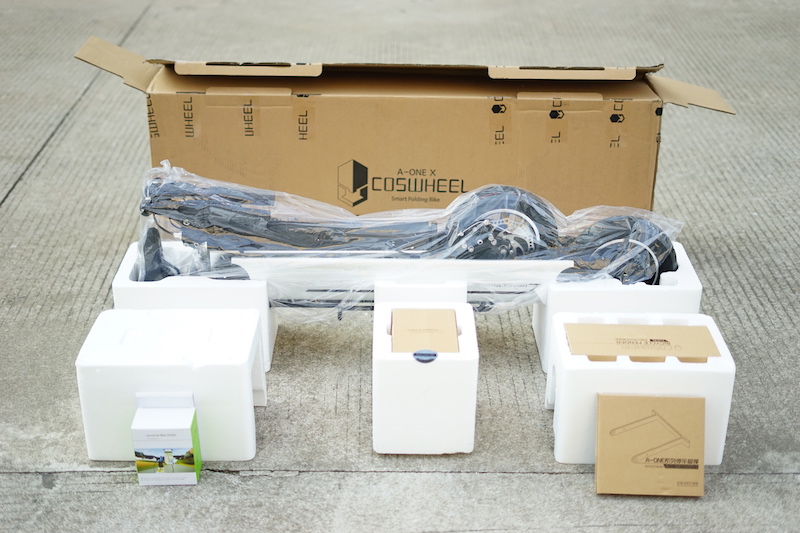 ALL accessories
Before riding the A-One-X, we need to install the Kickstand and the Mud Guard which COSWHEEL call the Fender! Although they provide instructions on how to install them both, it was not an easy task.
Finished!
Fold and unfold
the A-One-X can be folded within a second. 
folding is also very easy
make sure the buckle is locked.
do you think it is like a Swiss army knife?
Do NOT cause injury to yourself by placing your hand near the folding mechanism.
Seat
The seat is neither adjustable nor soft.
Handle
The throttle is on the right side. The handle can be easily folded.
Pedal
The pedals can be easily folded, just press the button if you want to use them again.
you can also use your feet.
It also comes equipped with a borderless illuminated LCD display informing you of your current battery life & speed however you need the perfect environment to view all the details.
A USB port is included as is on most electric scooters.
The front and rear lights are powered by sensors turning on automatically when it's dark.
and can be controlled and change mode directly from the APP too.
Designed to be durable and tough, the electric scooter weighs 20KG, however the addition of an extra wheel to operate as an drag wheel means you don't need to lug the A-One-X around, you simply roll it around, just like you would roll your suitcase.
Riding experince
The features of this A-ONE X have been introduced, then let's talk about its riding experience.
power
A-ONE X is equipped with 10-inch pneumatic tires and 350w 10-inch brushless motor, 3 speed modes, the maximum speed is up to 35km/h.
The A-One-X does not have enough power to tackle steep slopes, a 73KG Wheelive Member struggled to tackled a hill.
Climb the short slope is ok.
Brake
Compared to the A-One, the A-ONE-X improved braking experience, with now front and rear brakes. There is a breaking distance of about 4 metres when you are travelling around 20KM/H.
The A-ONE-X ride is similar to a pedal bike or a scooter on a flat road.
Without suspension, you can feel so much vibration on uneven roads.
Water proof
We simulated the rainy day when the coswheel was wet with a lot of rain
Fenders blocked splash very well.
COSWHEEL has IP54 waterproof rating, ride in the rainy day will not be affected. The test proved that water-proof is reliable.
Range
COSWHEEL inform us that A-ONE-X can achieve 35KM provided that the rider weighs 60KG, riding using the normal model. This data varies across riders weight, driving habits, temperature, road condition and so on.
A Wheelive Rider weighing 68KG tackled the normal city roads, choosing the sports mode on a warm day (30C) achieved a distance of 23.07KM at an average speed of 14.58 KM/H.
Another fatter wheeliver rider weighing 80KG also tackled the normal city roads on a slight cooler day, 27 C, again choosing the sports mode achieved a total distance of 16.73KM with an average speed of 22.75 KM/H.
Overall, the A-ONE-X stands out for it's folding capabilities, but it's ride performance and durability all too make it a great choice for students and commuters alike.